Caxton Interiors
- Transforming Your House into Your Home
See our Home Page for This Month's Special Offer
Our friendly team can transform fabrics into bespoke curtains, blinds, cushions to compliment your style and design. A number of the ranges that we stock, have complementary wallpaper collections, for which we are also stockists. Some of our suppliers have websites with on-line pattern books enabling you to choose a selection of fabrics in the comfort of your own home. Feel free to visit our showroom where we can show you the fabrics you have selected and assist you with your final decision making and help you by offering a complete service from helping you choose to complete installation. If you prefer the traditional method of choosing your soft furnishings, please come and visit our showroom where we will be pleased to give you the benefit of our experience and product knowledge.

If you would prefer Made to Measure Curtains , as opposed to bespoke from our fabric collection, then we can supply those too.

We also stock a full range of Curtain poles and Tracks and our haberdashery section contains all the curtain tape and cottons that you would need to make them yourself.

The following list shows our most popular brands and provides links to their fabric collection pages on their website. The web page will open in a new window (or tab):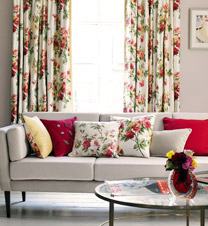 Founded by Arthur Sanderson in 1860, Sanderson is an internationally renowned brand in the field of interior design and decorating. Its quintessentially English fabrics and wallpapers, bedlinen, paint and tableware collections offer classic, inspirational product, design innovation, exceptional quality and value for money.
Sanderson's core products are co-ordinating fabric and wallpaper collections, often based on documents from its extensive archive.
Well known for its traditional, English inspired design, Sanderson is also innovative in its use of colour and production techniques. The company draws on the creativity of young contemporary designers, alongside the work of artists and historical documents. This mix creates new and directional designs for modern living.

William Morris (1834–1896) was the single most influential designer of the nineteenth century. Morris was a political theorist, scholar, translator and publisher, an environmental campaigner, writer and poet as well as an outstanding designer. Under his direction Morris & Co. grew into a flourishing and fashionable decorating firm renowned for its wallpapers and textiles.
Today Morris & Co. guarantees authentic versions of those designs alongside new interpretations, using innovations in printing and weaving technology to create up-to-date fabric and wallpaper designs with timeless appeal.
Click on this link to see the William Morris Range of Fabrics.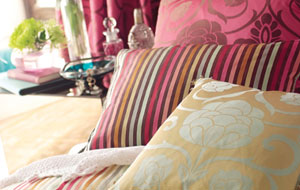 Harlequin is the premier destination for inspirational designs, innovative textures and delicious colours. An eclectic fusion of classic mixed with contemporary, flamboyant married with elegant; Harlequin's versatile ranges of prints, weaves and wallcoverings offer the most discerning of customers a dazzling spectrum of products – all at accessible prices! The company is firmly established as a leading player in the interiors market: it continues to produce mouth-watering collections at a prodigious rate, as well as forging links with aspirational accessories' companies to expand its interiors offer.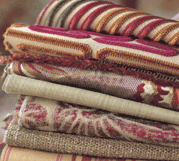 Founded in 1884 by brothers George Percival and James Baker, G P & J Baker has been producing beautiful prints and weaves for over 100 years. More than a century of discerning collecting has produced one of the most exciting and largest privately owned textile archive in the world. Designs from this rich resource are skilfully adapted to meet with today's transitional tastes and colour palettes and are complemented by luxurious and eclectic weaves. Today, in addition to developing its own traditional style and unique "handwriting" GP & J Baker continues to grow its reputation as one of the world's innovators of fabric design and colour. As a holder of the Royal Warrant, GP & J Baker fabrics are used in Royal residences throughout the United Kingdom.
The Jane Churchill brand has built an international reputation for creating fresh designs specifically intended to work together to produce a wide range looks, both contemporary and traditional. Epitomised by an easy-to-live-with tone, each collection offers a broad mix of fabrics, wallpapers and trimmings.
Click on this link to see the Jane Churchill Range of Fabrics.

This brand epitomises the very best of English style, a style that is admired and emulated the world over. The essence of this look is a timeless elegance and subtlety, combined with an emphasis on perfect comfort, and an insistence on quality.

Fabrics, wallpapers and trimmings by Colefax and Fowler with their understated colours and sophisticated designs are the ideal choice for the relaxed and informal atmosphere that characterises the modern interior.

Recent collections include embroideries, velvets, silks, woven checks, floral prints, stripes, and plain linens. Complementing them are comprehensive ranges of wallpaper and trimmings.
Click on this link to see the Colefax & Fowler Range of Fabrics.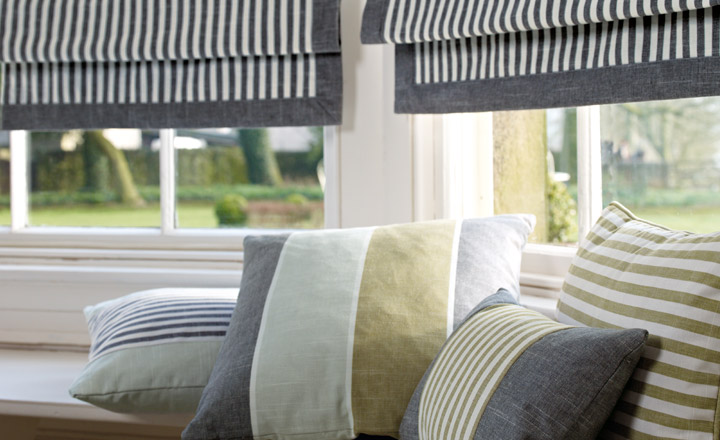 VillaNova is a young and vibrant brand, founded in the mid 1990s with the philosophy of creating modern and versatile fabrics and wallcoverings that offer affordable style. Their talented design team is responsible for the development of their eclectic range of printed fabrics, decorative weaves, sheers and wallcoverings. This is complemented by a whole spectrum of plain and semi-plain fabrics. All ranges have been cleverly designed to co-ordinate together from collection to collection with seamless ease. VillaNova has a distinctive signature colour palette incorporating an extensive variety of classic and contemporary shades, which are creative, but also easy to live with. Collections are carefully co-ordinated to provide colour consistency throughout the range, allowing designs from a variety of collections to be used together to create an exclusive VillaNova scheme.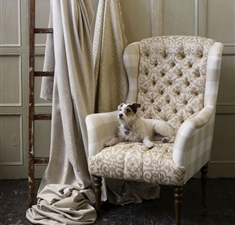 This brand, as the name suggests, is based in the New Forest. Linwood is a family-run business with over three generations of experience in the furnishing market. They are passionate about maintaining a classic English style within their collection, while at the same time introducing new contemporary designs and trend ideas that are relevant to the way we live today. Linwood work with the finest textile printers, weavers and dyers in Britain and across Europe to create the very best interior furnishing solutions for their customers.
Linwood has a wide and eclectic selection of more than 1,000 plain weaves, jacquards, damasks, prints and velvets with wall coverings and leather to co-ordinate.


Established in 1973, Anne and Robert Swaffer Limited produce high quality decorative furnishing fabrics. Several new collections are designed and introduced every year. They regularly feature stylish innovations in traditional and contemporary floral prints jacquards and plains. The product range is suitable for curtains, bedspreads, upholstery and loose covers in both domestic and contract applications.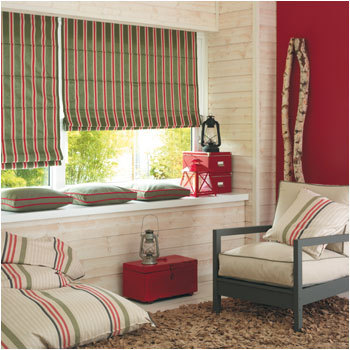 Known for its large range of colours, CASADECO is also appreciated for its variety of designs and its innovating and modern trends.
We also stock some less well-known brands that also offer the quality that Caxton Interiors demand from their suppliers. There is no link to these websites.:


Bowland Fabrics
Blendworth
Scion
Hardy

ILIV
James Brindley
Lister Corniche

Malabar

Prestigious Textiles

Clarke & Clarke
If you can't see what you are looking for, we can source fabrics and suppliers. Please Contact Us to find out.